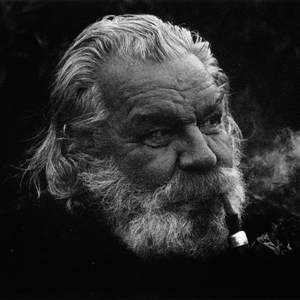 The Finnish designer (1915-1985) attended at  Institute of Industrial Arts in  Helsink (1936) was one of the pioneers of Finnish industrial art who gained international recognition in the years following the Second World War. This was due to his broad aesthetic scope and his refined exhibition designs.
Conflicting aspects combined in Tapio Wirkkala's life and art.
He was equally at home in metropolitans abroad as in the wilds of Lapland, where he sought inspiration and impulses for his advanced design rooted solidly in the most genuine aspects of the finnish experience.
Wirkkala's works range from exlusive creations of art glass to mass-produced everyday objects, from unique pieces to beer bottles, incandescent lamps and banknotes.
Tapio Wirkkala was without doubt a designer whose works broke down the boundaries between the arts and crafts and the visual arts. He was also a charismatic and encouraging teacher and he created an impressive oeuvre in a wide range of materials produced in many different countries.
Awards: The bank of Finland; Milano Triennale Italy 1951, 1954, 1960 and 1963; Lunning prize 1951; House Beautiful, USA 1951; World Fair in Brussels, Belgium 1957; Society of Industrial Arts, England 1958; Museum of Contemporary Crafts, USA 1960; The International Badische Ainilin und Sodafabrik; Germany; The Golden Obelisk, Domus Italia 1963; Faenza Italy 1963, 1966, 1967, 1969 and 1973, Vicenza, Italy 1963, 1966 and 1967; Suomen kulttuurirahasto 1968; TEOSTO 1980; Prince Eugen's Medal, Sweden 1980.
Memberships of honor: Honorary Royal Designer of Industry, London, England 1964; Chairman of the goverment's Committee for Industrial Arts 1968-1973; Royal College of Arts, doctor honoris causa, London England 1971; Worshipful; Company of Goldsmiths, honorary memebership, London England 1971, Academician 1972.
He, together with his son Sami (born in 1978, his style is characterised by scarce use of ornaments) designed 'Finlandia' line for Serafino Zani.