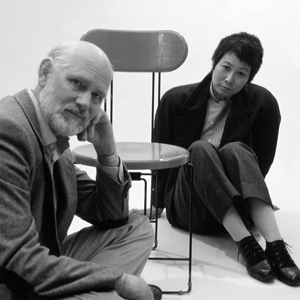 Andreis Van Onck was born in 1928 in Amsterdam
1952-1954 studies in industrial design at the Royal Dutch Academy at The Hague
1954-1959 studies in industrial design at the Hochschule für Gestaltung in Ulm, Germany
1959-1965 industrial designer at Olivetti Italy assisting Ettore Sottsass
1976 member of the Board of ADI (Itialian Designers Association)
since 1965: proper design office in Milan and today in Gavirate (VA)
Professor of Design at the State University "Politecnico" in Milan Dept. of Industrial and Environmental Design.
Among different Design Awards we mention:
Premio MACEF 1974
Premio SMAU 1975
Premio Compasso d'Oro 1979
Honourable mention Compasso d'Oro 1979, 1981, 1984, 1987, 1995 Honourable mention Premio Forum Design 1992
Hiroko Takeda was Born in 1945 in Japan
Diplom in Design 1967 at the Academy of Tokyo.
From 1968 till 1972 collaboration with different Japanese industries in the field of furniture and interior design.
Lives and works since 1972 in Italy and collaborates with Andries Van Onck
Teaches since 1998 Industrial Design at the Milan Politecnico University
Awards
1979 COMPASSO D'ORO
1992 premium FORUM DESIGN
Together, designed 'Serafino' flatware for Serafino Zani.