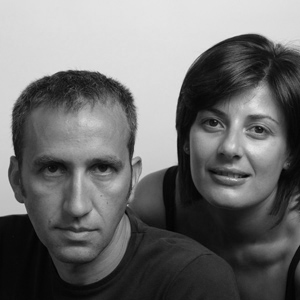 Silvana Angeletti was born in Rieti in 1969, Daniele Ruzza was born in Rome in 1967. Together they lead a study that deal mainly with industrial design and they work with numerous Italian companies such as: Teuco, Flaminia, Azzurra, F.Lli Fantini, Guzzini, Colombo Design, Irsap, Ad Hoc, Serafino Zani, Nemo, Valli&Valli, Poltrona Frau, Gedy, R.S.V.P, Graff, Fiam.
Art directors of Azzurra, since November  2007.  Among their projects of interior design is the Quinto Assio Hotel in Rieti, and Relais e Chateau Mazzetelli Villa Quinto Assio in Rieti.
Awards
2004: "ADI INDEX", Plano by FANTINI,
2006: "ADI INDEX", Stand GSI Cersaie 2005.
2009: DESIGN PLUS, Nuvola, by Azzurra. DESIGN PLUS, For happy hour jug, by Guzzini; RED DOT AWARD COMMUNICATION, by Azzurra communication; GOOD DESIGN, Set knives with block, by. Guzzini; GOOD DESIGN, Nuvola, Azzurra; GOOD DESIGN, Thin, by Azzurra.