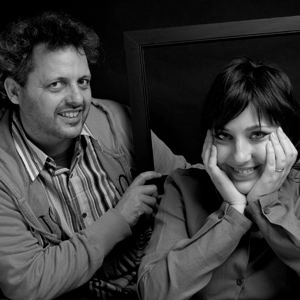 Laura Fiaschi (Carrara, 1977) – designer and graphic designer – and Gabriele Pardi(Viareggio, 1966) – architect – founded Gumdesign in 1999.
They deal with architecture, industrial design, graphics, art direction for companies and events.
Dynamism, transformability and versatility, fun and playing are the perceivable features in every design that the company undertakes; designing and dreaming go hand in hand… imagining, conceiving, inventing, creating something that is new and precisely… everything that implies emotional tension that is nothing short of dreaming!
They are involved with the "Free University" of Bolzano, the Cried of Milan, Pisa University and the Celsius in Lucca.
Awards
Awards among which First Prize at the Creativity International Competition "Swiss in Cheese" and three special mentions at the International Competition "Young&Design"; they have been selected, as designers, for the exhibitions "Prime Cup" and "New Italian Design" for the Milan Triennale Exhibition and for the Exhibition "Theatre of Italian Creativity" in New York..
The 'Swing", tasting glass, is selected for the Design Museum of the Triennale of Milan.